Nvidia's meteoric rise has been followed by a meteoric fall.
From January 2017 to last October the stock soared nearly 170 percent, hitting an all-time intraday high of $292.76 on Oct. 2. But since then — just four months — the stock has lost almost half of its value.
Just last week, the chipmaker slid more than 9 percent after the company cut guidance, citing "deteriorating" economic conditions in China.
Last week's slide notwithstanding, shares have bounced 20 percent from their day-after Christmas low, which some might see as an indication that the worst is over. But one market watcher says, don't believe the bounce.
"I think this [Nvidia] is up in line with the S&P but no more. I really don't see this as an interesting buy at all here because you still have significant slowing in the cloud market," Chantico Global's Gina Sanchez said Monday on CNBC's"Trading Nation."
She also cites the crypto balloon burst as a reason to stay away from Nvidia.
The bitcoin boom was also a boon for chipmakers since their gaming cards were used for cryptocurrency mining. When the crypto craze slowed, so did the demand for chips. Last quarter, CEO Jensen Huang said "the crypto hangover lasted longer than we expected" and that "mining" would likely add "no contributions" to the company's bottom line going forward.
"I think this is a stock to stay away from right now," Sanchez concluded.
After looking at the charts, Oppenheimer's Ari Wald believes there's a path to recovery, but that $185 is the upper limit for the foreseeable future.
"I think it is basing, I just think this base is going to take longer to play out. … Looking at the chart, that retracement level lining up with the low at around $125 would make sense for when it should base," he said.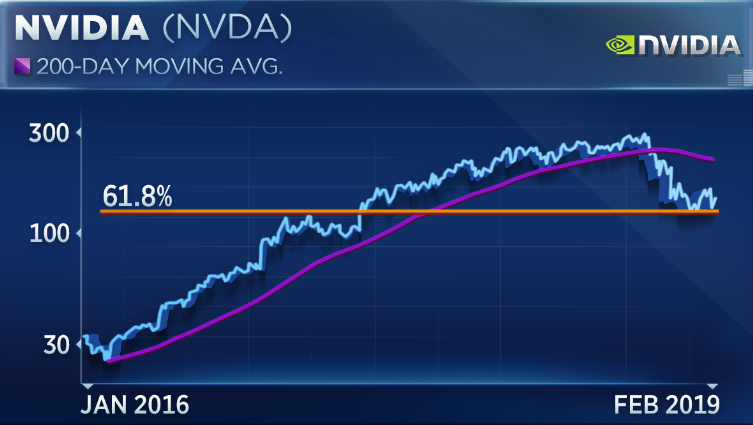 He points out that the stock is currently trading well below its 200-day moving average — $149.18 versus a $221.92 average. As long as the spread between the two levels is so large he doesn't anticipate the stock breaking above $185.